You can save a life!

600 people die in South Africa of AIDS-related illnesses every day. Most of these lives can be saved with antiretroviral medicines (ARVs).
The TAC Treatment Project will provide antiretroviral therapy to an equal number of TAC activists and community members.
Government estimates that half a million people need ARVs today. Fewer than one percent of these people have access to these medicines and they are mostly in the private sector.
After a long struggle, Government has decided to develop an antiretroviral treatment plan. However, it will take a long time for the programme to reach every part of the country. Until treatment becomes available everywhere, the TAC Treatment Project will contribute to saving lives. Our ability to do this will depend on your support.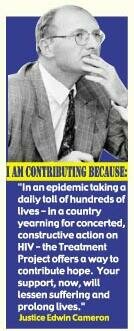 We will provide generic ARVs as well as counselling and treatment support. The TAC TP aims to provide treatment to 50 activists and community members by the end of 2003 and, as funds become available, to between 500 and 1000 people by the end of 2004.
The TAC Treatment Project works with public healthcare facilities where possible. If necessary, private doctors and laboratories are used. The project provides the following services:
antiretroviral medicines;
treatment counselling and patient education
monitoring of medicine safety and adherence to treatment regimes
assistance with training of healthcare professionals.
Click here to make a credit card donation to the TAC Treatment Project.
Download the TAC Treatment Project pamphlet in PDF format here.
Download the TAC Treatment Project Frequently Asked Questions in PDF format here.